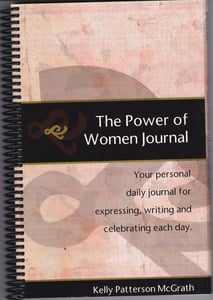 $

19.95
Start Your Journal Today! This fabulous Journal, coil bound, over 200 pages, is a must have for you and your girlfriends. Makes a great gift.
Enjoy this journal, pick it up whenever you feel a need to express, be thankful or just vent.
Journaling is a great way to express ourselves, our dreams and our goals.
In this Journal you will find some great quotes, a laugh or two, tips on creating balance in your life and lots of space for letting it all out. A specialized Daily Journalling template will assist you in your writing.
Think of The Power of Women Journal as your place to go at the end of the day where you can share your inner thoughts, your frustrations and your celebrations. Share this with your loved ones; it will inspire them to journal as well.
Unleash your inner power – the power of women!
Live life out loud and celebrate.
$19.95